Create multiple brand profiles and apply them at the company, job, or candidate level
3DIQ offers the ability to create multiple brand profiles so that you can customize the branding the client will see. Brands can be applied at the job or candidate level. Additionally, ClientConnect users can apply brands at the company level.
How to Create Brand Profiles
3DIQ admin users can create and edit custom brands within the Organization Settings menu.
Click the Brands tab where you will see your default logo and button colors.
First, select either the main 3DIQ Submission Platform or Skill Marketing tab to create the new brand.

Scroll to the bottom of the page and click Add Another Brand.

Enter the Brand and Company name. The brand name is how you will select and identify each custom brand within 3DIQ. Once your logo has been uploaded you can adjust the height, width, and location the logo will appear on each profile.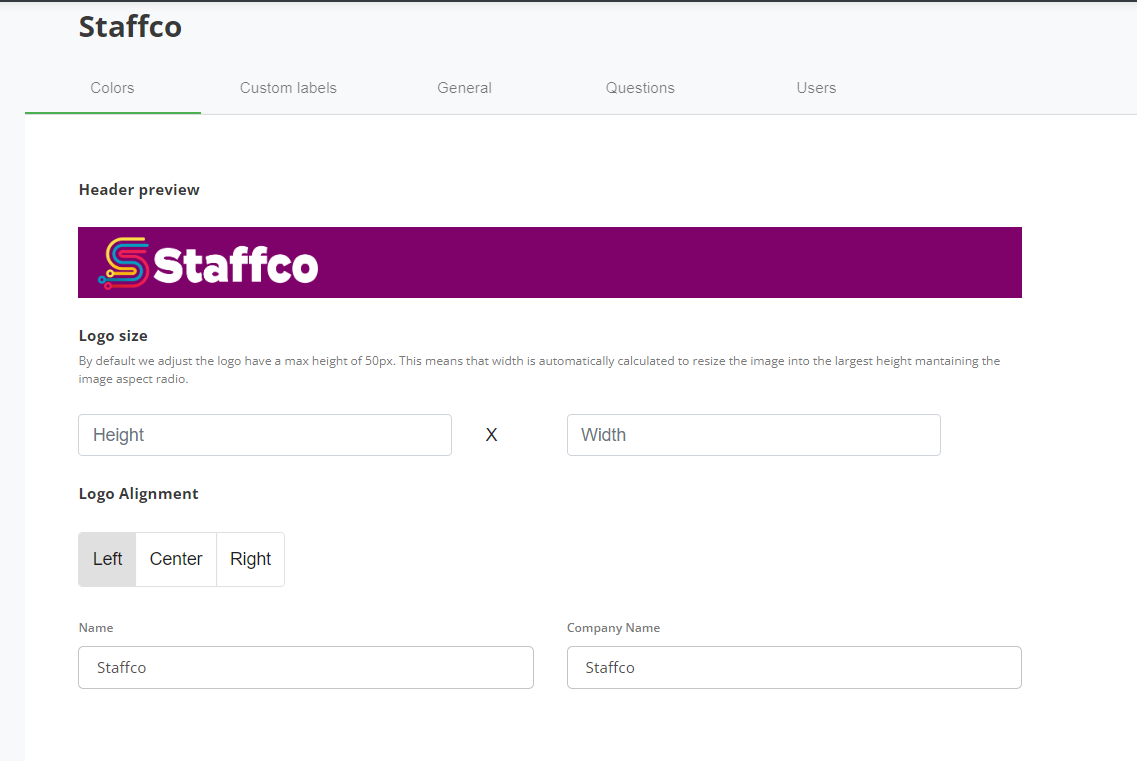 Click Browse in the Brand Logo field and locate the logo file you would like to use. Make sure your logo is in a transparent format (such as .png) and fits well inside the visible box. The optimal height for a logo file is 50px and the width is proportional to the height. High-resolution logos work best.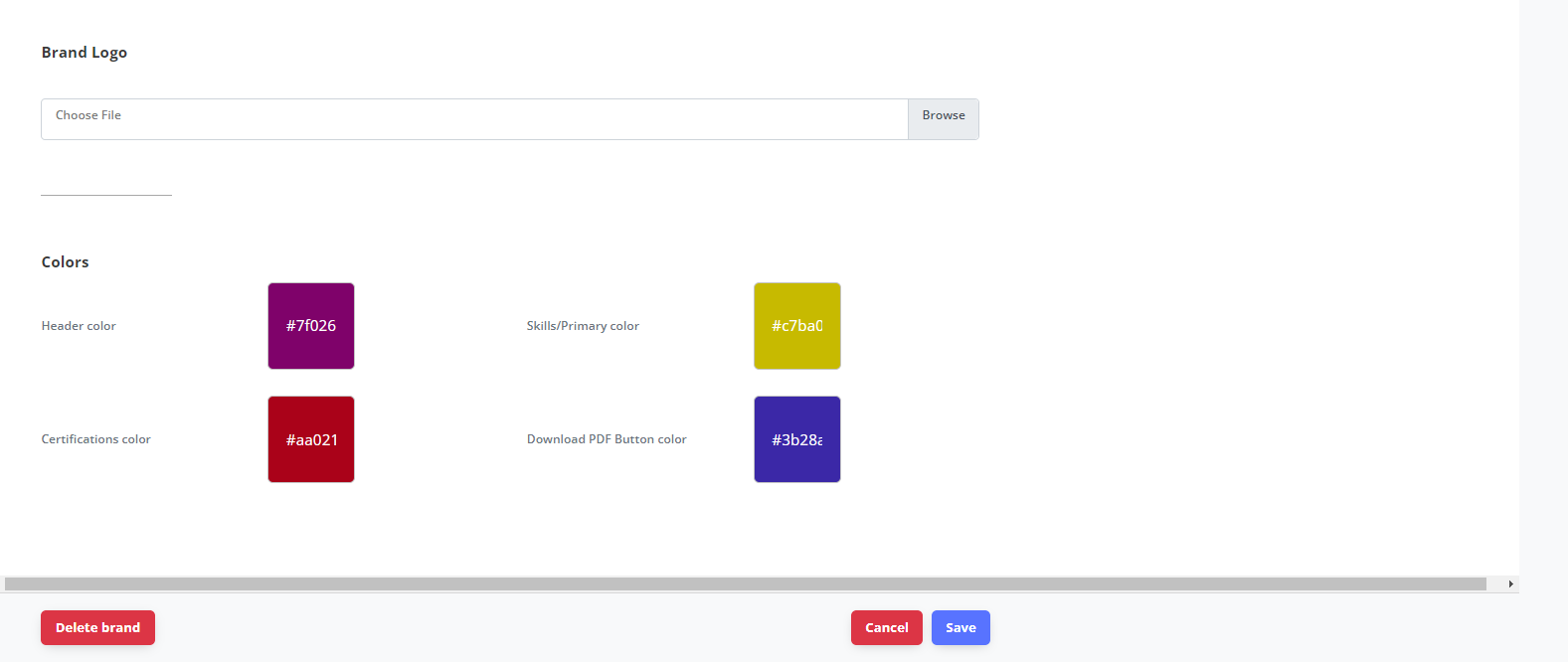 Primary Color
Your organization's Primary Color is the one that displays at the top of each resume and should contrast well with your logo. To change this color, click the circle and choose your color (or enter a #HEX code).
Certifications, Skills, and Download PDF Color
These options update the Skills, Certification, and Download PDF tags on your candidate's profile. Please choose a dark color that will contrast well with the white text. Choosing a light color will cause the tags to not display properly.
Custom Labels tab
Default values are populated for you however you can change them if your organization uses different verbiage. This would also be helpful if one of your brands recruits for a client that speaks a language other than English.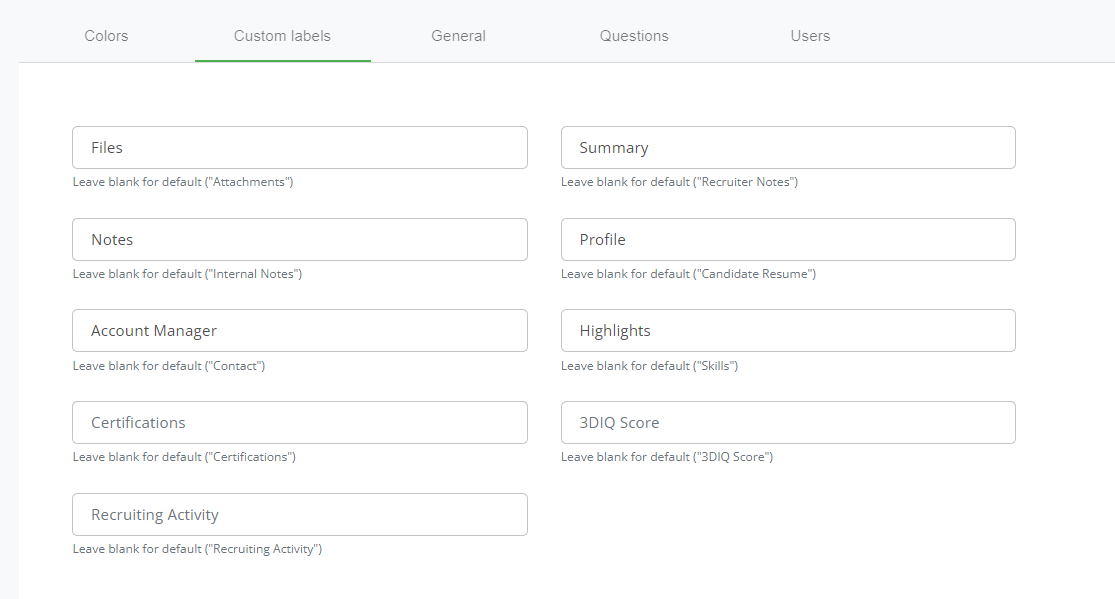 General tab
This tab is where you will set basic settings for the brand. These include the Mail Client (Desktop or GMail), resume link expiry, and any customizations to the subject line of the email you submit to your client. Client Connect users can also choose the type of Tally Chart to display (bar graph or pie chart) if they use that feature.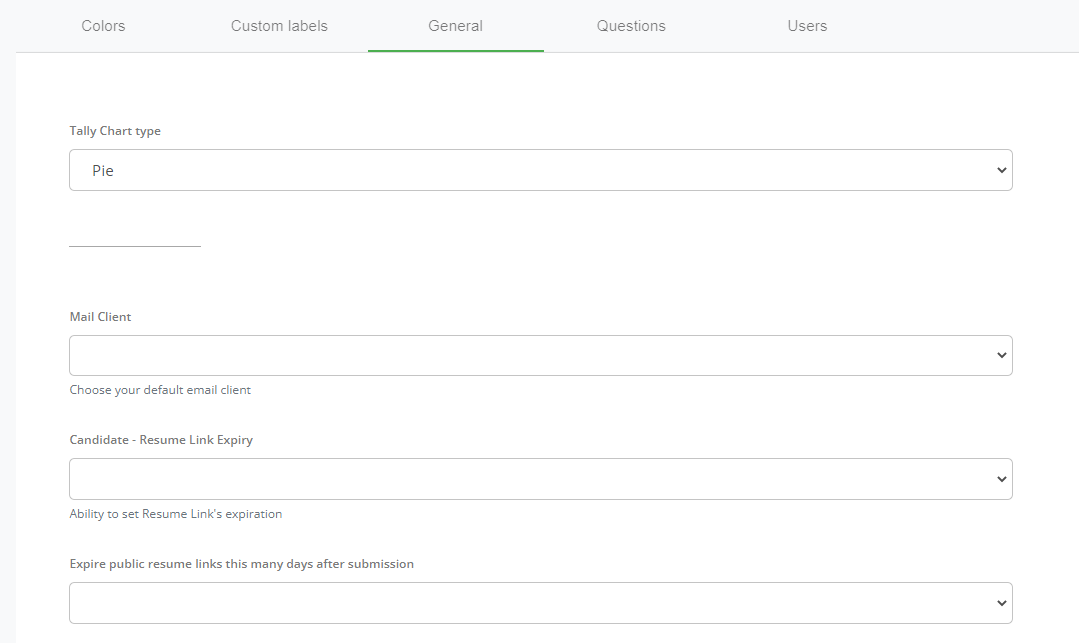 Questions tab
Customize the message your clients see when giving feedback by changing the "Feedback Title" field. By default, this field says "How do you feel about this candidate."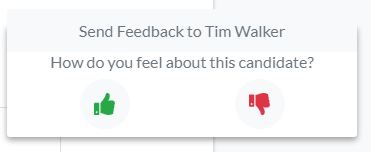 By default, feedback can only be given one time per device. If you would like to allow your clients to provide feedback more than one time on a candidate profile, select the 'Allow leaving feedback more than once' option.


Thumbs-up questions:
These are the questions your client will see when clicking "Thumbs Up" on a resume. You may toggle off one or both of the default questions, in addition to creating up to three custom open-text or four multiple-choice questions. To add a custom question, click the 'Add Custom Question' or 'Add Custom Multiple Choice Question' button.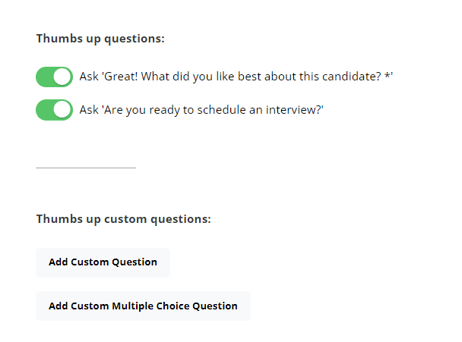 Thumbs down questions:
These are the questions the user will see when clicking "Thumbs Down" on a resume. You may toggle the default questions off for this response as well as add up to three custom text box questions or four multiple-choice questions.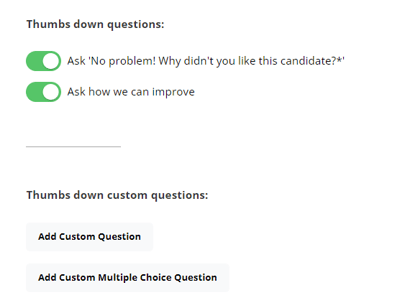 Please Note: Removing all default questions without adding custom questions will allow users to Approve/Decline resumes without giving any feedback. This may be desirable in situations where quick or limited feedback is required.
Email Address and Terms and Conditions
You can also decide whether to ask your clients for their email addresses and/or have them agree to 3DIQ's Terms and Conditions. Each of these questions can be shown/hidden or marked as "required."

Please Note: For customers who must comply with GDPR, CCPA or similar data protection regulations, these options are required to be included in order to receive feedback.
Users tab
Assign 3DIQ users to a brand so that any profiles they create will default to the brand they are assigned to. Search to find the users to add to each brand.

Remember to save your new profile!
Unbranded Profiles
You can create custom brands without a logo or primary color. This allows you to create an unbranded resume for use in some VMS systems. Simply select the brand on the candidate's resume and then use the "Download PDF Version" button to generate a PDF without company branding.
Apply Brands to a Job or Candidate
After you have created a profile for each brand you can then attach the logo to a specific job or candidate. Once you attach a logo to a job all candidates submitted for that job will display the new logo on their profile.
To change the logo at the Job Level, locate the job in 3DIQ. Click the ... menu and select Edit Job. Scroll to the bottom of the page and select the brand from the drop-down menu. Click Update Job. Now, all candidates submitted to this job, will inherit this brand (and not the organization's default brand).

To change the logo at the Candidate level simply locate the job in 3DIQ and select the candidate. Click the ... Menu and then Candidate Settings. Select the brand from the drop-down menu. Click Save.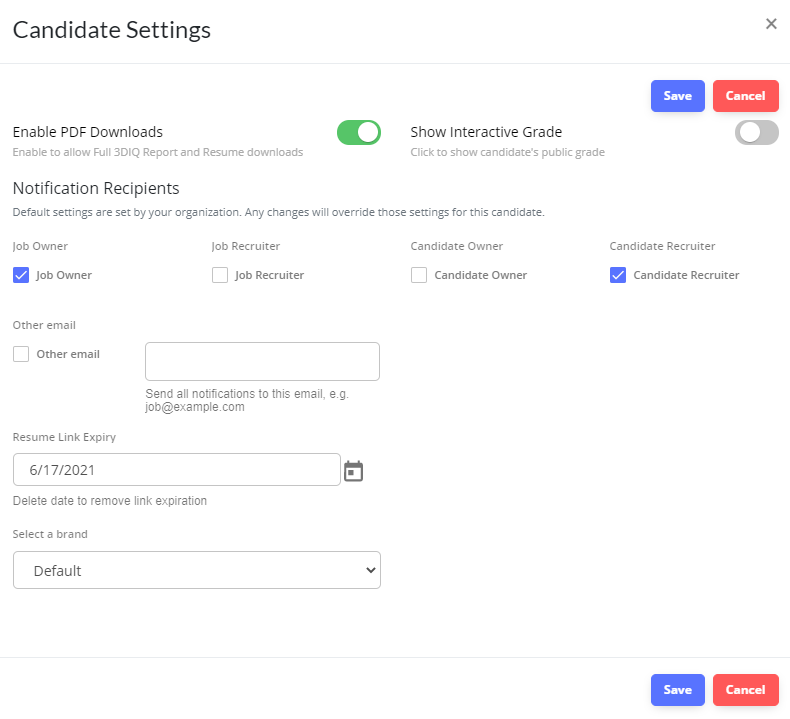 When changing a logo at the candidate level, the new logo will only appear on the candidate profile for that submission. You will need to select a different logo each time a candidate is submitted for a job if the default or job logo is different.
Setting branding for a Company (For ClientConnect users only)
You can brand your logos for each client at the company level in ClientConnect.
In Bullhorn select the Company record for which you would like to change the brand and access Client Connect. Scroll to the bottom of the page and expand the Company Settings menu. Use the drop-down menu to select the brand. Click Select Brand.

Custom brands can be edited and deleted. If you delete a brand, any companies using that brand will revert back to the default organization's brand.