Customize the feedback questions you ask your clients to meet your needs
3DIQ's Client Feedback options are essential to engaging with your clients and reducing feedback time.
By default, each resume allows clients to submit feedback using a set of standard questions when both approving or declining candidates. To customize feedback, 3DIQ admin users can access the Organization Settings and click the Feedback tab.
Please Note: Changing these settings will set the default feedback options for your entire organization and instantly update all existing resume links.
Feedback Title
You can now customize the message your clients see when giving feedback by changing the "Feedback Title" field. By default, this field says "How do you feel about this candidate." To change the message, type what you would like to see in the field.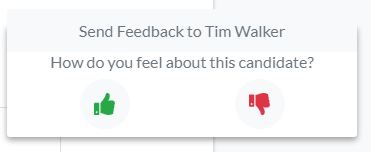 Thumbs-up questions:
These are the standard questions your client will see when clicking "Thumbs Up" on a resume. You may toggle off one or both of the default questions, in addition to creating up to three custom open-text or four multiple-choice questions. To add a custom question, click "Add Custom Question or Add Custom Multiple Choice Question."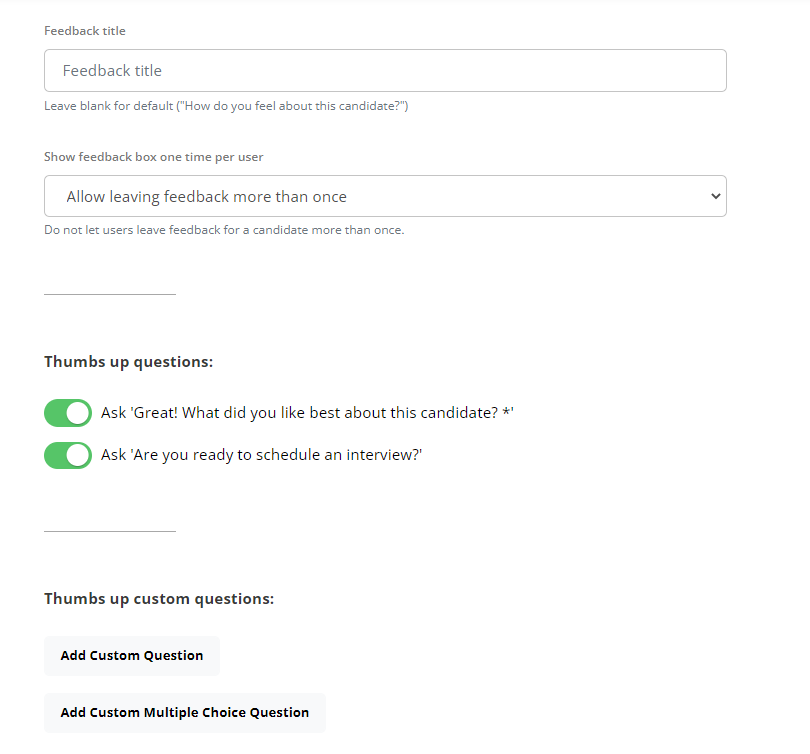 Thumbs down questions:
These are the questions the user will see when clicking "Thumbs Down" on a resume. You may toggle the default questions off for this response as well as add up to three custom text box questions or four multiple-choice questions.

Please Note: Removing all default questions without adding custom questions will allow users to Approve/Decline resumes without giving any feedback. This may be desirable in situations where quick or limited feedback is required.
Email Address and Terms and Conditions
You can also decide whether to ask your clients for their email addresses and/or have them agree to 3DIQ's Terms and Conditions. Each of these questions can be shown/hidden or marked as "required."

Please Note: For customers who must comply with GDPR, CCPA, or similar data protection regulations, these options must be included to receive feedback.
Customizing Feedback on Individual Jobs
Users can override and further customize the default feedback questions for individual jobs by clicking the ... menu for the job and selecting Customize feedback questions. Toggle questions on and off or add custom questions. Click Update to save changes.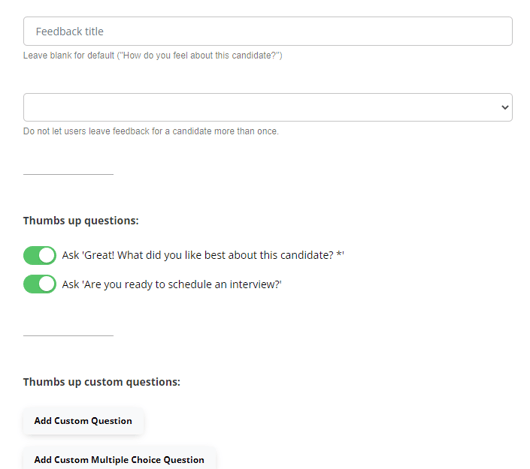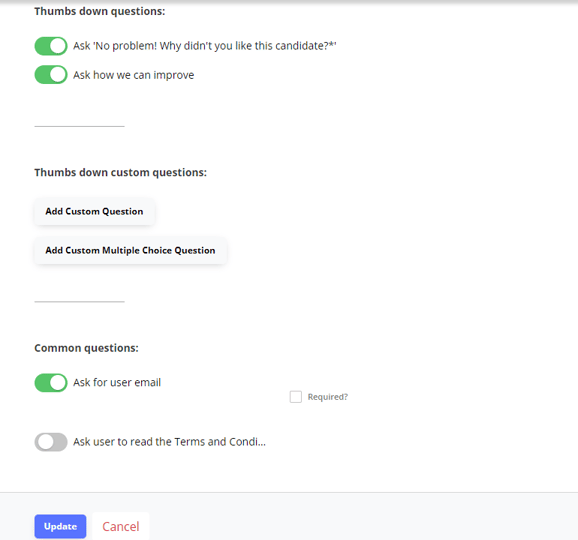 Best Practices for Custom Feedback Questions
1. Encourage your clients to respond
Our experience shows that the more you encourage your clients to give you feedback using the feedback box, the more likely they are to do so. We suggest telling your clients to give you initial feedback via the box the first time they view a resume.
2. Short and sweet
Keep your questions short and to the point, and use as few questions as possible. The less your clients have to read, the more likely they are to submit feedback.
3. Keep them consistent
Do your best to keep the questions the same every time. The goal is to encourage initial feedback quickly while encouraging your client to respond directly with more detailed questions.
4. Avoid requiring responses
Clients are more likely to follow through with the complete feedback if they are allowed to leave some questions blank. 3DIQ allows you to require responses for custom questions, but suggests that you only do so for critical questions.