Customize functions within your organization, change labels and create custom feedback questions
A 3DIQ administrator sets up your organization based on the preferences submitted for onboarding. You have the ability to make updates to those preferences to meet your needs.
Access the Organizational Settings at app.3diq.com. Click the gear icon and select Organizational Settings. Click between the tabs to update the settings.
General Tab
This is an information-only tab and is completed when your account is created. No updates are needed to this information.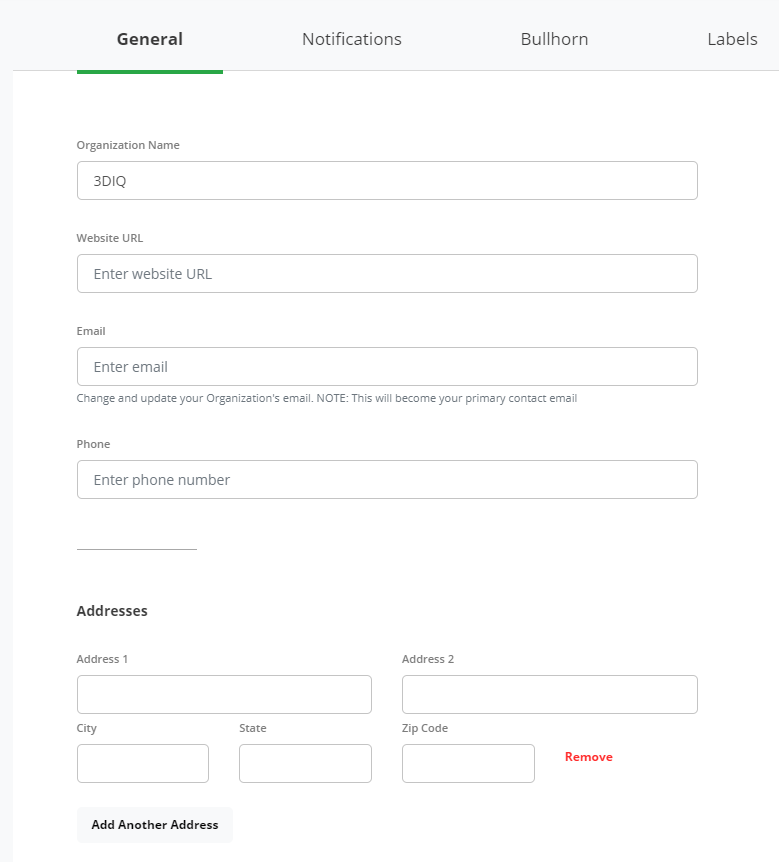 Notifications tab
Here you select who within your organization will receive view and feedback notifications. A description of each user type can be found here: User Type Settings in Bullhorn. We recommend leaving the Email Notifications setting to Disable. This ensures that all View and Feedback notifications are delivered.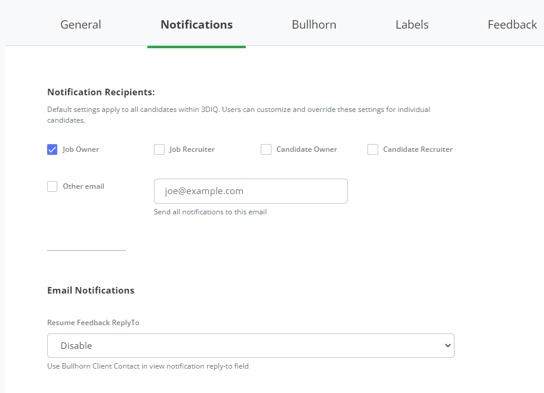 Activity notes and notifications
Select which note actions to write into Bullhorn and which Email notifications are sent to notification recipients by toggling them off or on. The default is 'On' for all. To include an additional recipient listed in a Bullhorn field (i.e. scheduler, secondary account manager or sales manager) enter the Bullhorn field name in the 'Other email' field.
Bullhorn Tab
Here you see your default mail client (Outlook or Gmail). You will also be able to customize the author of the notes that are written into Bullhorn, choose to have a candidate moved to "Client Rejected" status if a Thumbs Down feedback is given, and rename "Client Submission" to match what your workflow step is named if needed.
Product Features are for clients using Client Connect you can choose which columns your clients will see when accessing the portal or turn on the Recruiting Activity (Pie Chart/Bar Graph) section for all jobs for a Job Owner or at the Individual Job level. To show the list of the candidates submitted to the job enable the Candidate list in CC (enabled by default). To give your client's the ability to add additional contacts permission to view a job 'Enable' the setting.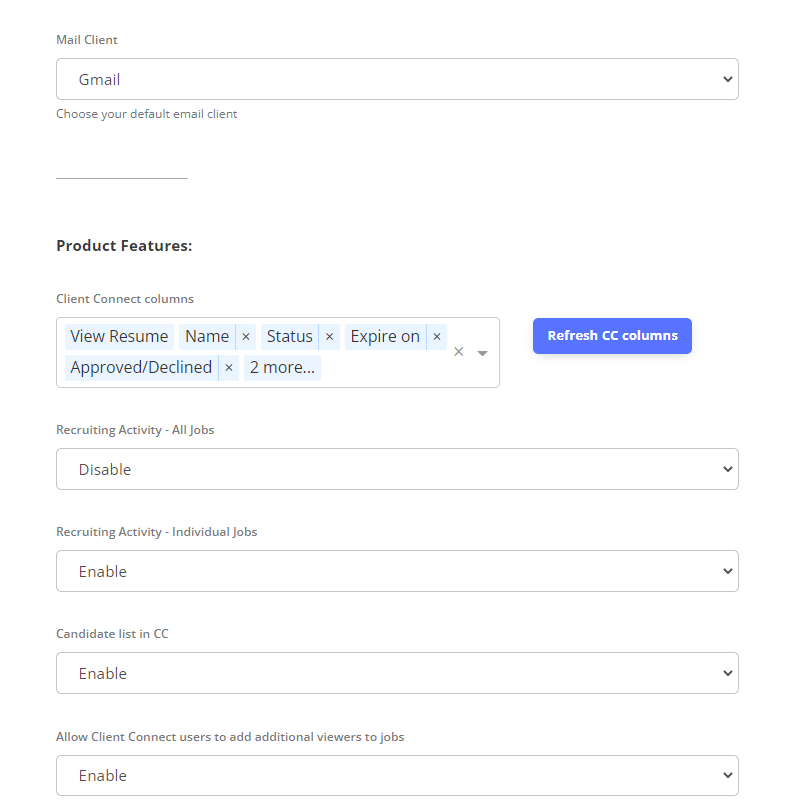 To select only certain candidate statuses that will be pulled into 3DIQ, toggle on the filter for Candidate Lists and select the status from the drop-down menu you would like to see. For custom statuses, please contact support@3diq.com.

Preferred Action Author is where you choose whose name will appear as the note author in Bullhorn. They are the same options as the link above for User Type Settings in Bullhorn. To hide the contact information on the candidate profile, toggle on the 'Hide contact information from resumes' field.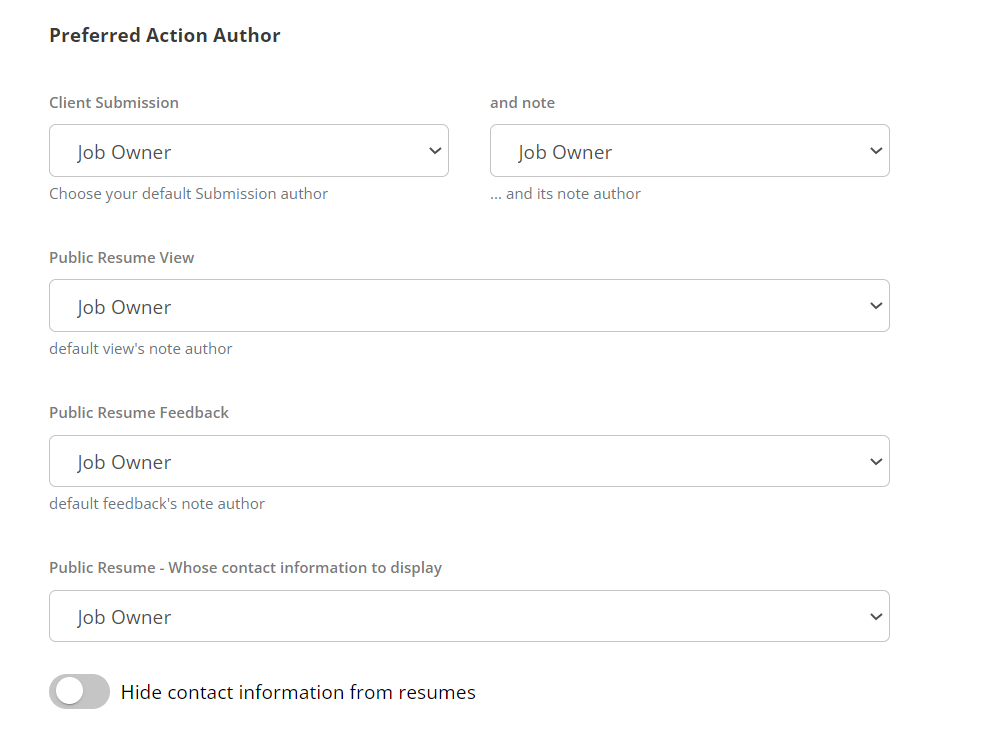 Workflows are where you enable/disable moving the candidate to "Client Rejected" status if your client gives a Thumbs Down feedback response. You can also update the name "Client Submission" if you use different terminology for this step of the workflow. Toggle on/off to set the default to Display the Original resume for all jobs or Hide job titles for all jobs.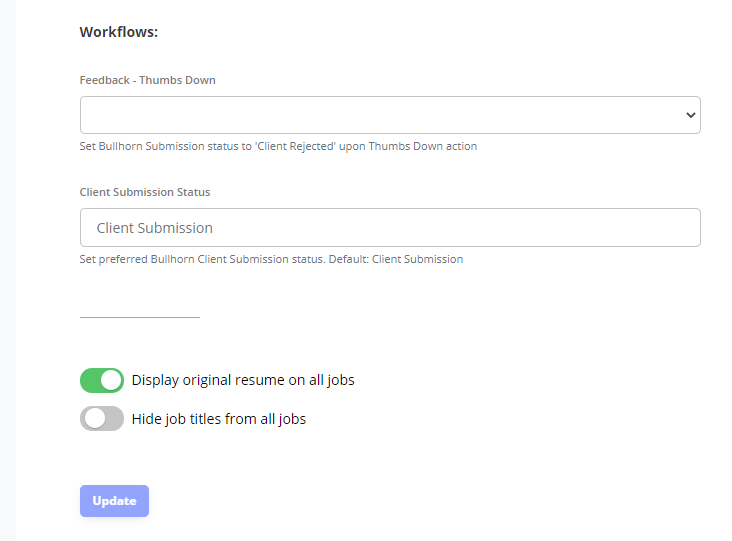 Labels Tab
Here you can customize the headings for many of the fields within 3DIQ to match your terminology or language.
If you are a Client Connect user, there is an option to show Job Notes at the Job Level in Client Connect. This is a free-form field that can be used for any notes your would like your client to see when accessing their job in Client Connect. Job Notes are added or updated at the Job level in 3DIQ. See the Recruiting Activity and Job Notes for Client Connect article for how to add notes.
You can also change the subject line that will auto-populate when the Client Submission email is generated using the listed variables.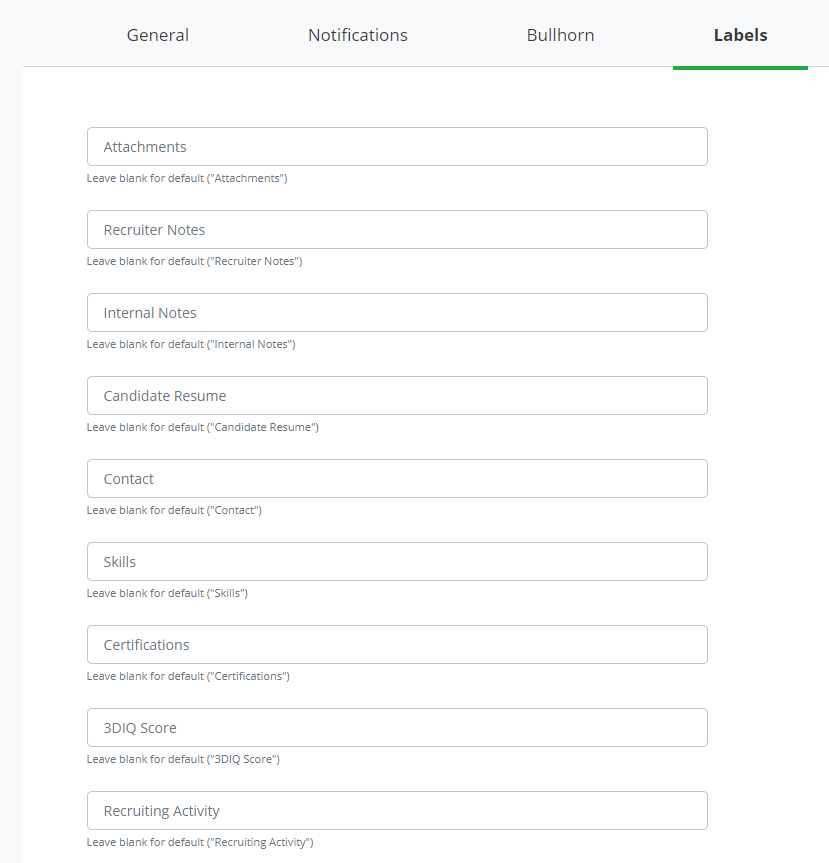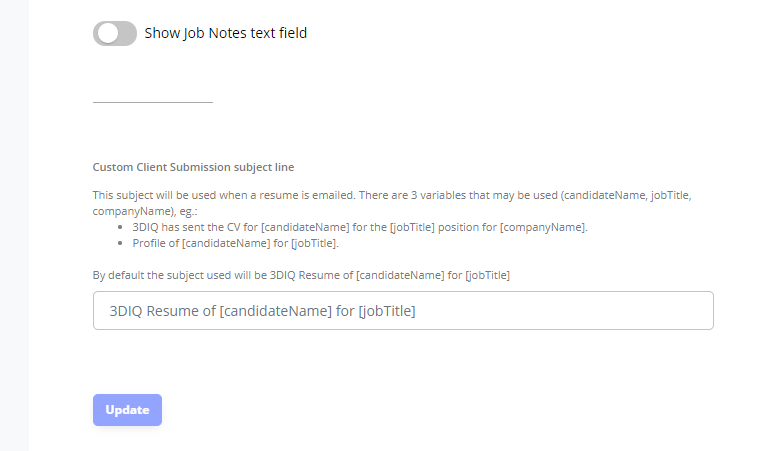 Feedback Tab
Here you can change the default "Thumbs Up/Thumbs Down" question, remove default questions and add up to three custom text boxes or four multiple-choice questions. The standard default questions can be toggled off if you choose not to use them. All custom questions are open text boxes.
To give clients the opportunity to give feedback more than one time per device, set the 'Show feedback box one time per user' option to Allow leaving feedback more than once.
Follow this link to learn more about Customizing Client Feedback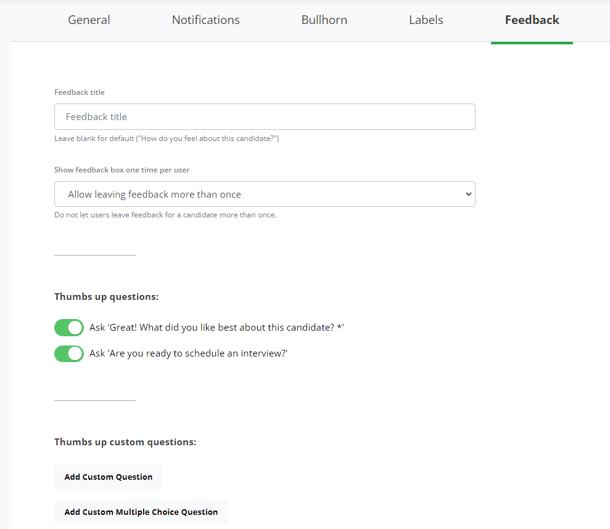 Brands Tab
Create brands for both the 3DIQ core product as well as Skill Marketing. Upload a logo and customize the colors of the Header Bar, Skills, Certifications, and Download PDF buttons.
Logo size and Logo Alignment allow you to adjust the size of the logo that will appear on each profile and determine where the logo will appear, Left, Center, or Right.
Organization Logo is where you will locate your logo file and add it to your organization settings.
Colors are where you will select the colors for a header bar (which will appear behind your logo). Click the existing color for each section. Use a hex code or select the color manually.
Tally is for clients using Client Connect with the Recruiting Activity feature enabled which displays either a pie chart or bar graph of all candidates and their Bullhorn status.
Brands are for all additional brands you can create. Each brand can contain separate logos and colors. Customize each additional brand with the same options as the primary logo including field labels, feedback questions, and users. Follow this link to learn more about Creating Multiple Brand Profiles.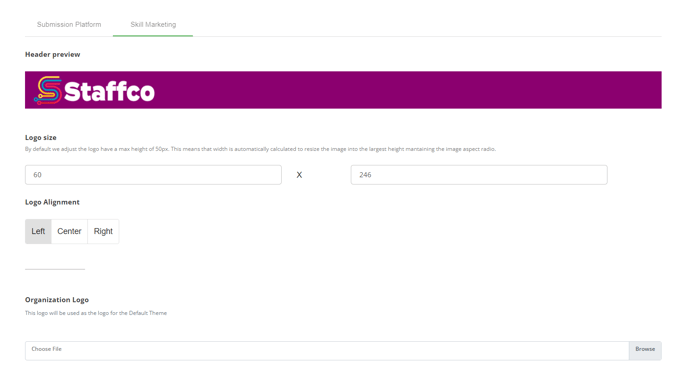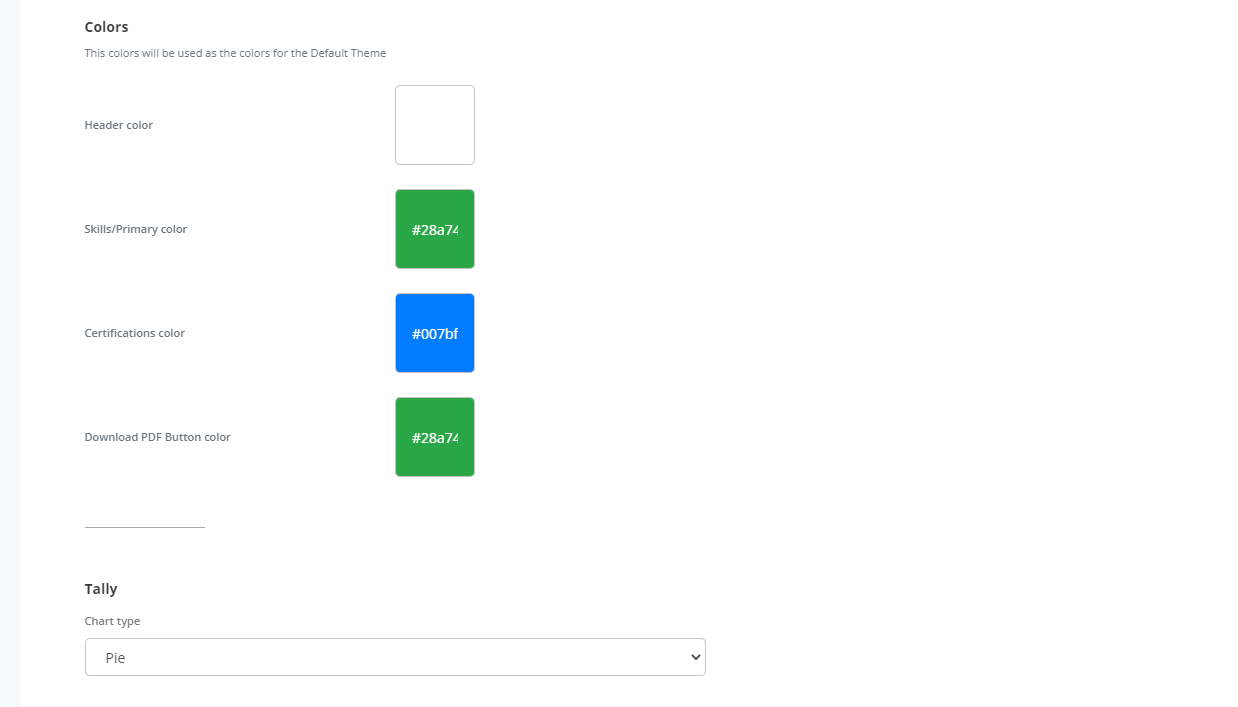 Security
You have the ability to add a password that your clients would need to enter in order to view resume links. **This is disabled as a default. It will set a password that anyone looking at a link must enter unless they have a verified Client Connect login**
Candidate Configuration is where you set the number of days the resume link will be available for viewing by your clients. This setting is the default for the entire organization but can be updated in the candidate profile if a different length of time is desired or to reactivate a resume link that has expired.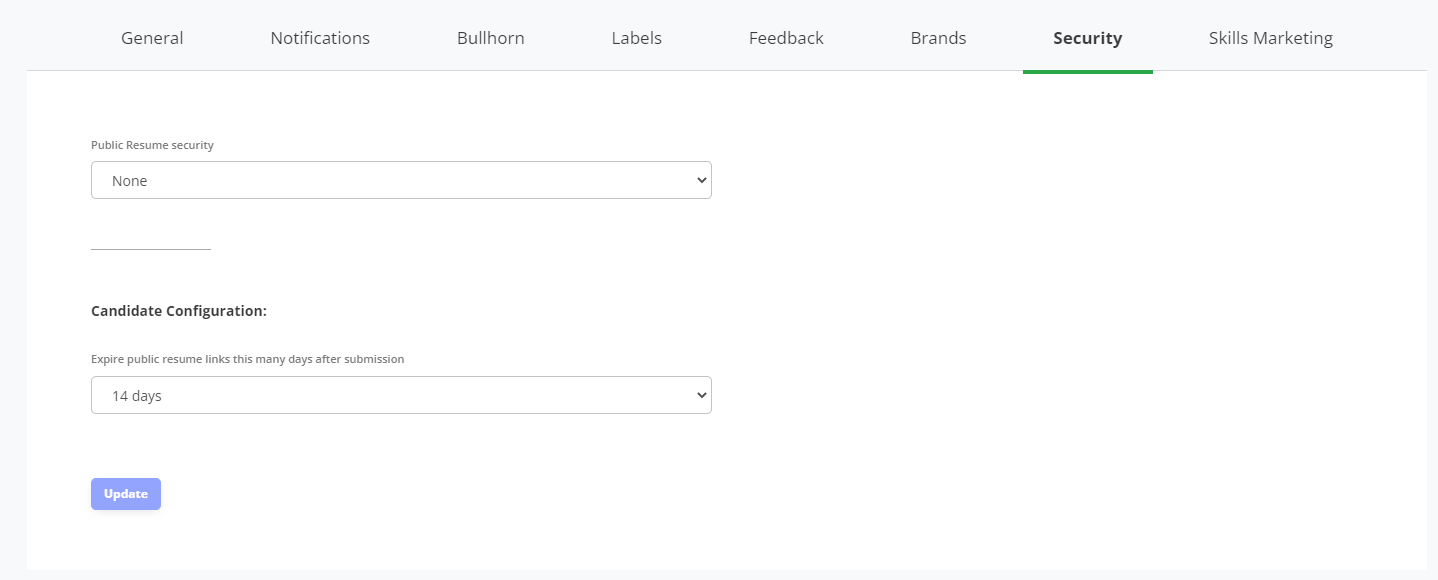 Be sure to click the 'Update' button to save the changes.
Skill Marketing
For clients using the Skill Marketing product, follow this link Customize Skill Marketing organization settings for additional information on setting up skill marketing preferences.
Profile Templates
Use fields from Bullhorn to create custom profile templates for the Core Submission Platform or Skill Marketing.
Follow this link Create a custom profile template for core product submissions to see step-by-step instructions on creating custom submission templates.
Follow this link Create a Skill Marketing profile template to see step-by-step instructions on creating a custom skill marketing template.
Users
Here you will give access to new users or remove access for existing users. In the upper section, under Bullhorn Users, filter to find the new user you would like to see. Use the toggle to give your new user access to toggle off to remove user access to 3DIQ. Follwo this link to see how a user will use their Bullhorn credentials to log in to 3DIQ using Single Sign On (SSO).

If your company has multiple brands you have the option to give individual users a default brand. This will then brand any profiles the users share with clients with the default brand assigned to their account.

For any additional questions about customizing your 3DIQ settings please contact 3DIQ Support.