All activity associated with an individual candidate, including views, votes, and feedback can be viewed from the candidate's profile within 3DIQ
RESUME ACTIVITY LOG
All activity for individual candidates, including views, votes, and feedback can be viewed from the candidate's profile within 3DIQ. The first thing you'll notice for each job and candidate is the addition of Viewers, Total view time, and Average view time.

Once your client has clicked to view a resume or provided feedback, you'll see the activity log. To view resume activity, hit the "View Activity Details" button.

CLIENT USER TRACKING
Whenever your client views a resume, we'll document their email (if provided) or assign them a unique user ID. This unique ID will allow you to track your client's clicks and views on other resumes as well, even if you don't have their email address. The unique ID will also include location information as well as how long your client viewed each resume.
Note: Location information for mobile views can sometimes be less accurate.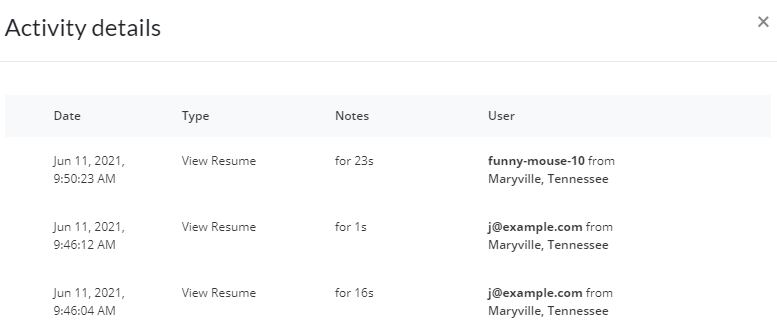 In addition, more specific tracking is available if your client gives you their email address on any resume. Once you receive an email address in feedback, all future resume views and interactions (even if they don't provide their email address again) will include that email address. Now you'll know WHO views your resume each time!