Use your custom skill marketing template to send individual candidate profiles
Market individual candidates to your clients using the profile template builder. Locate your candidate record in Bullhorn and click the 3DIQ tab.

Candidate Profile Template
If you have more than one profile template for your company, you may need to select the appropriate template for your candidate. Open the Feedback question & candidates profile template section. Select the template you would like to use to display your candidate profile details.

You can also customize the feedback questions you would like your client to answer related to the candidate. Click this link to learn about Customizing Feedback.
Once you have made all the necessary changes, click the 'Update' button.
Candidate Profile
To review or edit your candidate's profile open the profile section (which will appear as Default MM/DD/YYYY). You will see the data populated from the candidate's Bullhorn record populated according to the template you are using.
If you would like to make manual changes to the data populated in the template click the 'Edit Default MM/DD/YYY profile' button. From here you can update any information associated with the candidate's profile. Once all changes have been made, click the 'Update Profile button.
Send to contacts
When you are ready to send this candidate's profile to your client or clients, click the 'Send to contacts' button. This will open a pop-up where you will search for individual client contacts or a tearsheet to send your candidate's profile. Click in the search box and begin typing your client or tearsheet name. Select one or more contacts and click 'Email Profile'.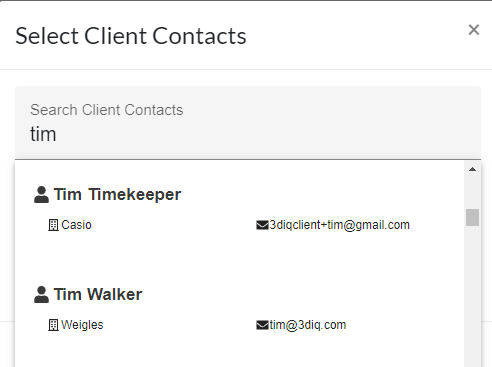 Copy Profile URL
You can copy the URL for the candidate profile if you choose. There may be times when you need to send the profile link outside of 3DIQ (i.e. text or instant messenger). Simply click the 'Copy Profile URL' button.

*Note* Sending the URL outside of 3DIQ will not track who is opening or interacting with the candidate profile. View and feedback notifications will not be sent.