Use tearsheets to manage available candidates and showcase them to your clients
Send Multiple Candidates via Tearsheets
Send multiple candidate skill marketing profiles to your clients using tearsheets. Once each candidates' profile has been created you can share them with your clients. Simply add candidates to a tearsheet and then create a new or use an existing candidate profile.
Access the 3DIQ Skill Marketing tab from a candidate profile then click Work With Tearsheets.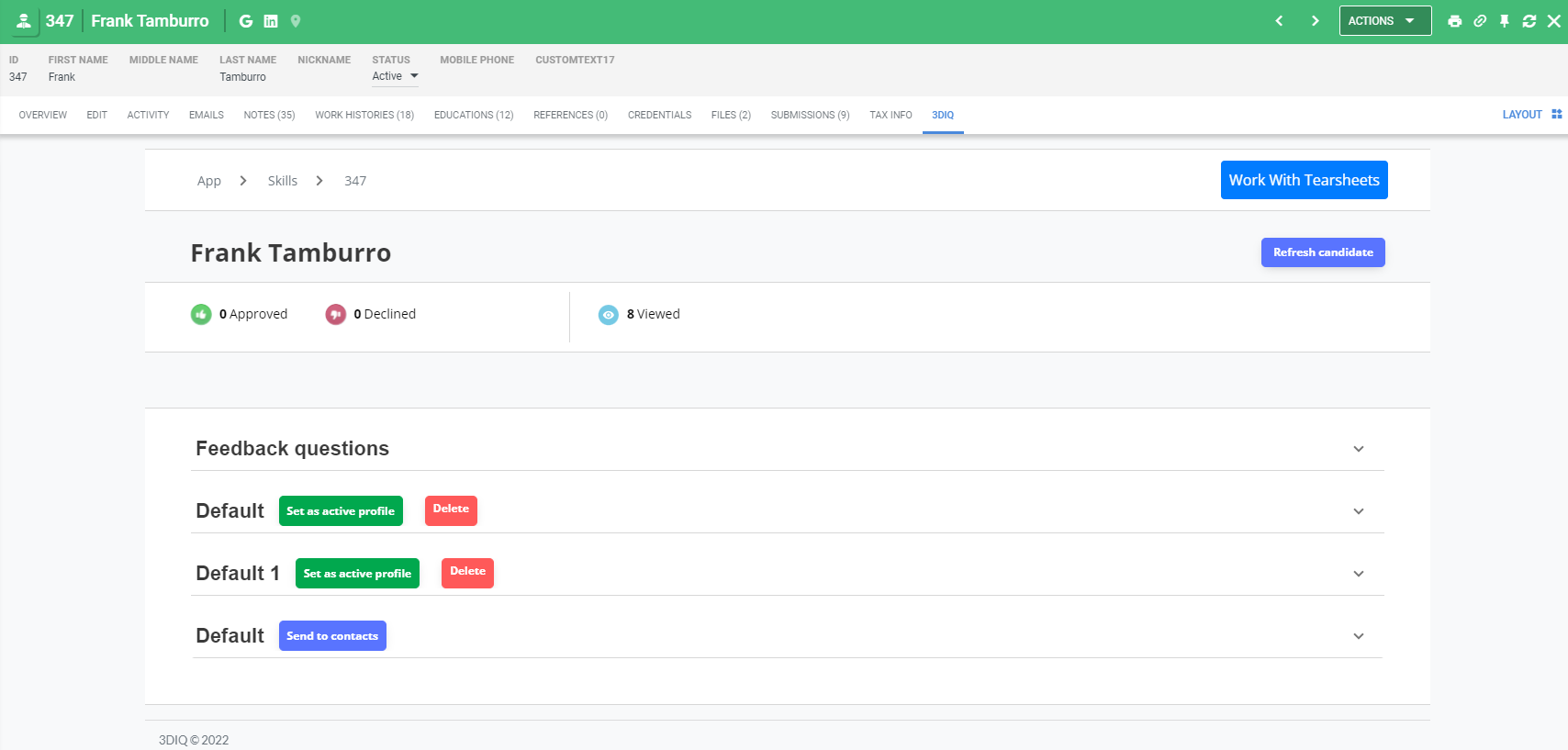 Locate the tearsheet you want to use to send to your clients, Click the tearsheet name to view the candidates that have been added. Any candidates that have been added to the tearsheet will appear.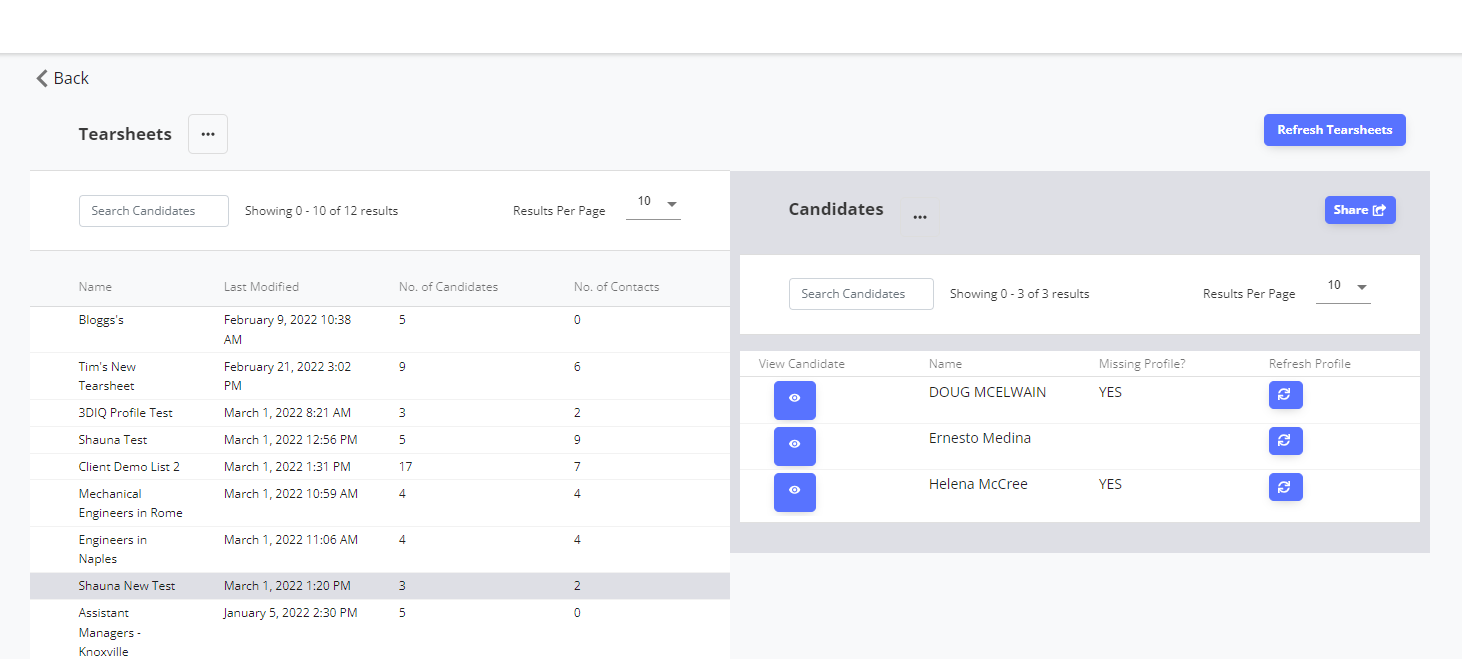 Candidates that need to have a profile selected or created will have a YES in the Missing Profile? column. Click the View Candidate button to create a new or set an active profile for each. Only candidates with a blank space in the Missing Profile? column will be sent to your clients.
**When the View Candidate button is clicked it opens the profile in a new tab. Once you have the profile complete close the tab and go back to Bullhorn to access the tearsheet you are working on.**

To verify if all candates' profiles have been created, refresh the candidate Profile to verify each candidate is ready to be sent to your client.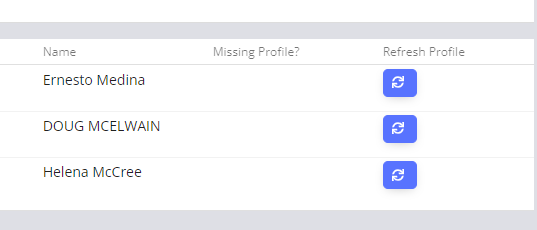 Sharing Candidates with Clients
There are several ways in which you can share tearsheets with your clients. Once you have prepared your candidates profiles click the Share button.

You will see four options for sharing the candidates with clients.
Send to Contacts

By using the Send to Contacts option, you are able to search for specific contacts or add contacts from the tearsheet. To select specific contact simply start typing their name in the Search Client Contacts field.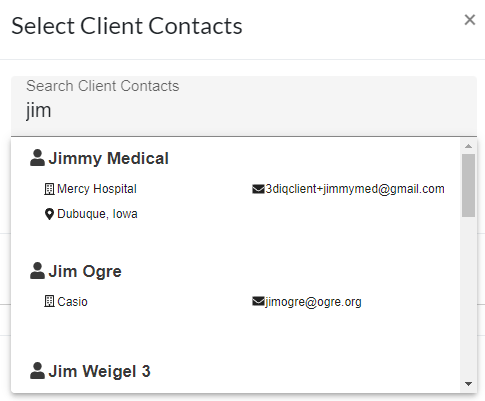 To add contacts from the tearsheet click the Add contact from this tearsheet button and any contact associated with the tearsheet you are working with will populate.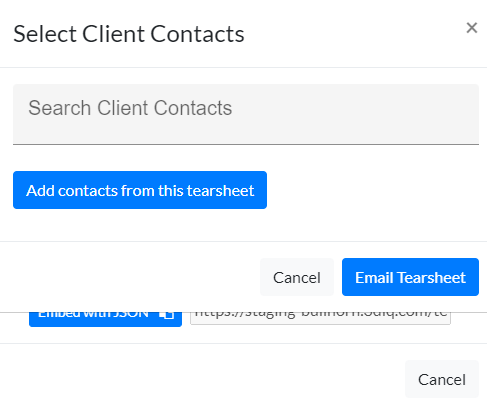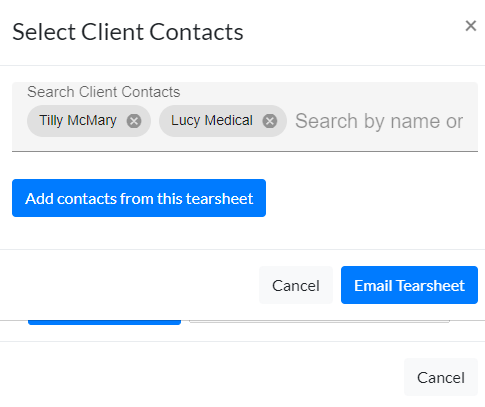 Once you have added all the contacts you would like to send your list of candidates to click Email Tearsheet. Your clients will receive an email with a link to all the candidates you have prepared.

By clicking the link they will be taken to the Resume Portal where they can view each candidate and provide feedback on each one.

Copy URL

This option will copy the URL to the clipboard where it can then be shared with anyone you would like to see the list of candidates for the job and provide feedback.
Embed in iFrame

An iFrame (Inline Frame) is an HTML document embedded inside another HTML document on a website. The iFrame HTML element is used to insert content from an outside source on your webpage.
This option gives you the ability to insert the link within your webpage where you could direct clients to go to view available candidates.
Embed with JSON

JSON is a text-based data format that is used to read data from a web server and display that data in a web page. This would give you the ability to share candidates on your website where clients could use filters to search for specific qualities and qualifications.
**If you would like to use this feature, please have your web developers contact support@3diq.com for additional information and assistance.**